So here's a little math equation of my crafting experiences thus far:  felting <  spray painting random things < making felt flowers < crochet < knitting.  And then every craft in the entire world < sewing.  Yes, sewing conquers all in my book.  I mean seriously.  Why did it take 22 years for me to discover this?
I made my first dress for Easter.  I made my second dress one day on an unexpected day off.  I felt pretty guilty for not cleaning the house, but after I finished the dress I quickly got over it.  New dress > clean house.  Sorry.  Enough with the math.
Here it is!  Timothy took me out for another photo shoot so I could show you guys my dress.  He's a good blog husband.
I'm really happy with how it turned out!  I feel like it fits a lot better than my first one.  It's more "me" too.
I made a huge black sash/belt to go with it.  You can't see it really well in this picture, but it's there.  In real life I love wearing it in a huge bow right in the front of my waist, but once I saw it in some of the pictures Timothy took I'm not so sure.  The skirt is super poofy and with a big poofy bow on my stomach, I don't necessarily look slim.  And slim is a good look to try to go for.
Hmmm.  Maybe I should have a photo shoot with all of my outfits to see what looks good and what looks weird.  I'm sure Timothy would loooove that. Ha!
This is the pattern I used.  Yeah, I had to buy the size 12-20 version.  Remember the whole "slim" look I'm aiming for?  Way to help my self confidence Simplicity patterns.  I appreciate that.
I will never in all my days understand pattern sizing.  According to my measurements I needed to make a size 14 dress.  I made a size 12 and it was still way too big.  Hum bug.  I literally spent hours trying to tailor the dress to fit.  I thought I was being smart and did some research on the pattern before making it.  A lot of the reviews said that it was pretty true to size and it was perfect for high waisted people.  Umm, not so much for me.  If I could just lengthen my torso two inches, life would be so much easier.
But aside from the whole sizing problems, I adore this pattern.  This is a shot of the waist – look at the cuteness of the angled darts leading to the pleats in the skirt!  It would probably be twelve times cuter if I were a bit better at sewing and actually had the darts meeting the lines of the pleats like they were supposed to.
This pattern also had pockets.  They confused me for about twenty minutes.  Seriously.  I read the pattern directions over and over.  And then I stared at the fabric.  Then read the directions.  Then took a cookie break.  Then repeated that series of events a couple of times until I figured it out.
I'm so glad I figured it out though.  Pockets rock!  I feel so ladylike having pockets in my full skirt.   I probably look like a weirdo whenever I wear this dress because I seriously never take my hands out of my pockets.  I'm actually getting to the point where I feel bad for everyone making fun of Napoleon Bonaparte.  The small guy who kept his hand in his shirt.  I bet he had a pocket in there.   It's a slippery slope.  Those pockets just draw you in.
Oh, and I got this fabric for 50% off thanks to one of those malicious JoAnn's sales that sucked me in awhile back.  Score!!!
Sewing + Whitney = true love forever.
I teased.  I wasn't done with all the math.
~Whitney
.
P.S. Timothy totally told me to model with my eyes in some of these pictures.  America's Next Top Model, here we come.
P.P.S. Just teasing again.  About the whole Top Model thing. Not what Timothy said.  That happened.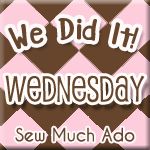 I'm linking up here! :)
Welcome

I'm honored that you took time to stop by my blog! My name is Whitney, and I'm a diy loving, piano playing, sewing obsessed, thrifty, non-house cleaning, crafty newlywed. I love God, my husband, and life as a wife. If you'd like to know more, just check out my About Me page. Much love!


What I'm Up To: